The retention problem for restaurants, also called "Leaky Bucket" problem, is the most important issue for growing restaurants like fast casuals, coffee shops, juice shops, and other food and beverage stores. It's a widespread issue to resolve for restaurants, where customers will only return to a restaurant once or twice before abandoning it.
The cost of acquiring a new customer is roughly 5 times more than the cost of retaining an existing one. So smart and successful business owners will grow only after fixing this matter.
To prevent this, restaurant owners set up an automated onboarding system composed of several touchpoints to make sure that customers engage with your business and continue to come back as repeat customers.
In this article we will go over the Orda "Growth Tool" that allows businesses to create such a customer journey map to make sure customers remain loyal.
Example Welcome Email Touchpoint: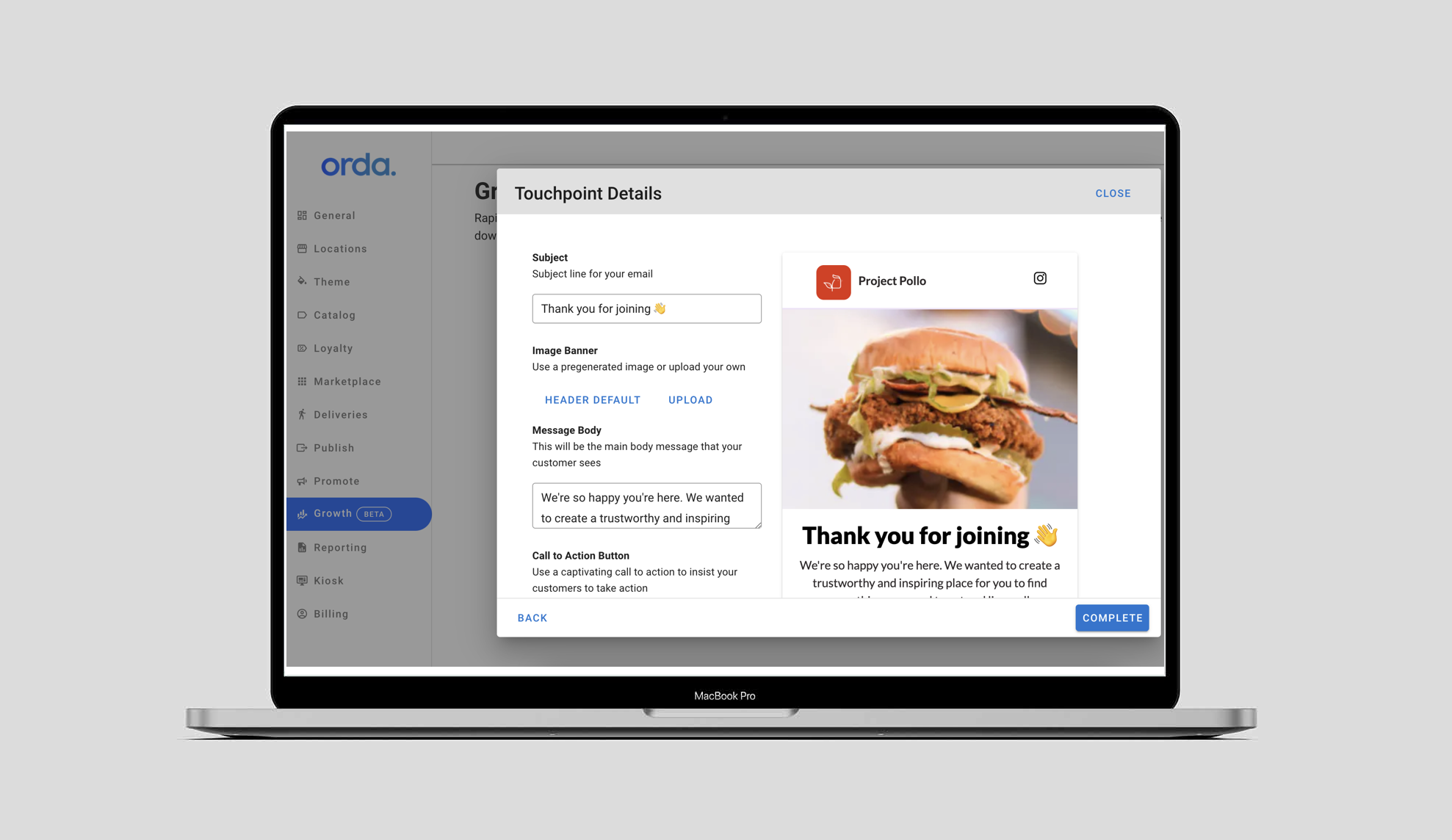 Outline of your Customer Journey
While each and every restaurant has its own story to tell their customers, the outline of the process could be narrowed to the same structure. It starts with a promotion (with an external trigger) that initiates the process of the customer to visit your business. It can be by stopping by your store and making their first purchase, making an online or mobile order or even just joining your loyalty program with the intention to know you better. The first interaction with the customer is super important but so are the messages they get in the following few days. These messages will create a continuity for their visit and make sure they have an easy way to turn into a repeat customer. Most people will read your story and engage, install your mobile app and buy again. Others need incentive in the form of variable reward to make the action so the coupon option is a great way to bring them back.
Here are the four essential steps in the process:
Promote - this is external trigger in form of digital ads, signage, email, or text message that directs customers to your restaurant.

Sell - this is where customers engage with your online or mobile ordering or even place an order in your self-ordering kiosk.

Bind - this is when you want your customer to download your app and join your loyalty program. Customers will find it convenient to order ahead, pay and track their loyalty with their phone.

Hook - People like variable rewards in the form of loyalty points or coupons so you can use it to create an incentive for them to join your loyalty program or download your app.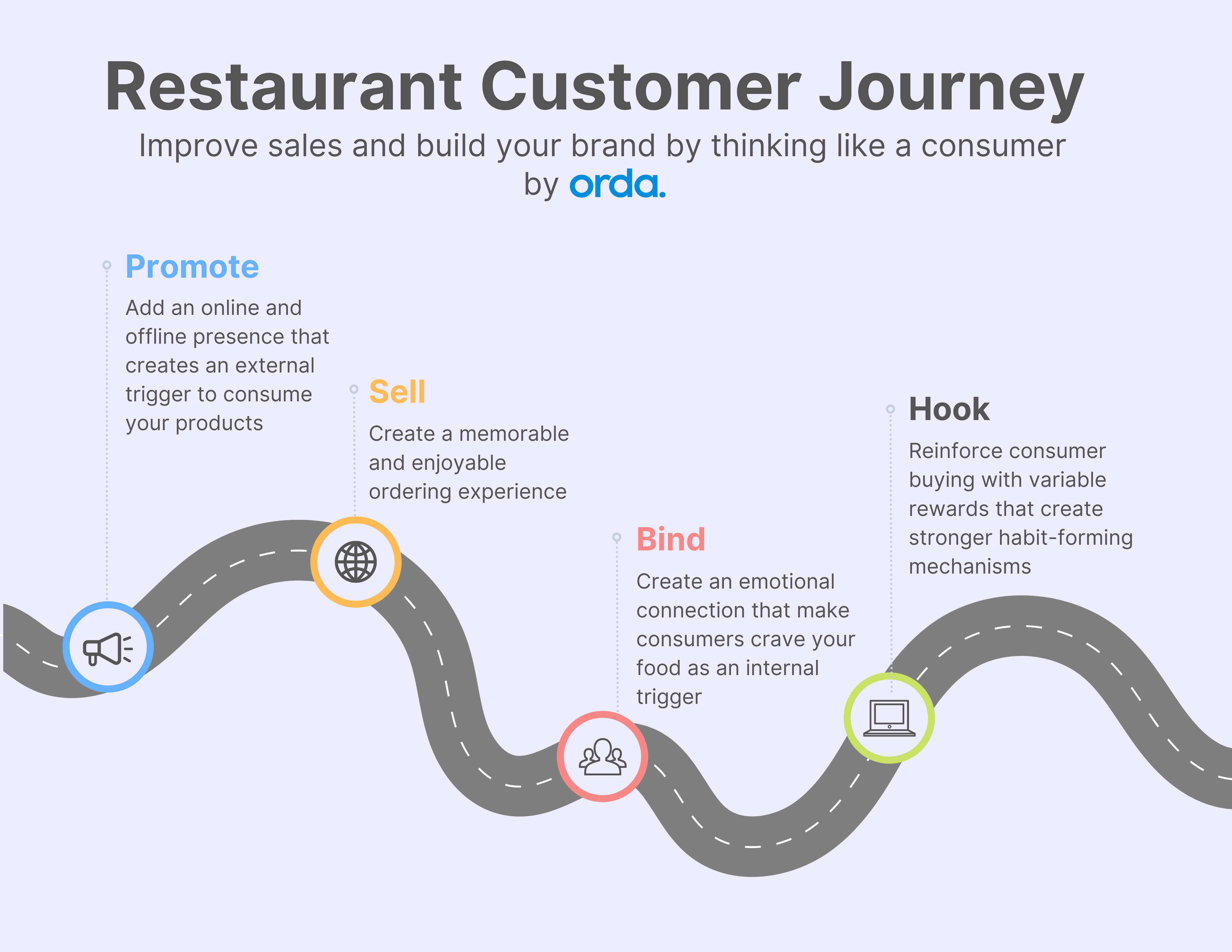 Multi-channel promotion
Nowadays, restaurants have more options than ever when it comes to targeted online advertising. There are dozens of ways to promote your restaurant online that help you join conversations and drive customers to your location.
Here are some of the most effective ways to promote your restaurant:
In-store signage like QR Code, posters and window decal
Sidewalk signs
Google Business Profile
Google & Yelp reviews sites
Business cards
Neighborhood email list
List Your Restaurant on Review Sites. Word-of-mouth still works, and one of the best ways to reach new customers online is through word-of-mouth recommendations. That's why so many diners turn to sites like Yelp or TripAdvisor before trying a new place. These sites can be a great way for your customers to find you — but you need to make sure your information is up-to-date and accurate across all review sites and directories. It's important that customers see these ads multiple times, both before and after their visit.
Use Social Media Marketing for Restaurants. Social media marketing for restaurants can be one of the most impactful ways to engage with your customers and build lasting relationships with them. A successful social media strategy for restaurants gives current and potential customers a reason to follow you. Be sure that the content you share is informative, helpful, interesting, or just plain fun.
People are searching for restaurants online. They're asking for recommendations on social media and making reservations on their smartphones. So why wait for them to find you? If you have a restaurant, the time is now to build your presence online.
A memorable ordering process to bind
The restaurant industry is changing with time and technology being used by all. It is important for a restaurant to have mobile app and online ordering to keep up with the competition. Online presence can be created through website, social media platforms etc. Online ordering systems are also one of the examples of online presence that helps in increasing sales and attracting more customers. An online ordering and mobile app for ordering not only provides convenience to the customers but also increases their loyalty towards your restaurant.
It's important to make sure customers join your loyalty program by default for the reason that customers feel more comfortable to be guided through the first few orders with a reward that is clear for them. This way your restaurant forms a habit.
Often, restaurants form a habit in consumers' lives — we go there because it's convenient, it's close to our home or office and we know we like the food there. This is why customer retention is so important for restaurants — repeat customers can be a major source of revenue for business owners.
Hook your customers with touchpoints
As a restaurant owner, you want to make sure that your customers will walk through the door and keep coming back.
According to statistics, restaurant customers form a habit if they visit a certain establishment at least seven times. After that, they are more likely to become loyal customers and even brand ambassadors.
To ensure that your restaurant becomes their favorite place to eat, you need to understand their customer journey. By mapping out their complete experience, you'll be able to identify their needs and improve your business operations accordingly.
Start with the touchpoints where your customers first discover your restaurant, then go on until they bring their friends or family members back. Use this guide to create a restaurant customer journey map that is unique to your business!
Welcome Event and Touchpoint
The welcome email is the first touchpoint with your restaurant. The welcome email is a great opportunity to give your audience a flavor of who you are and what your business is about. It's also a great opportunity to tell them to download your app.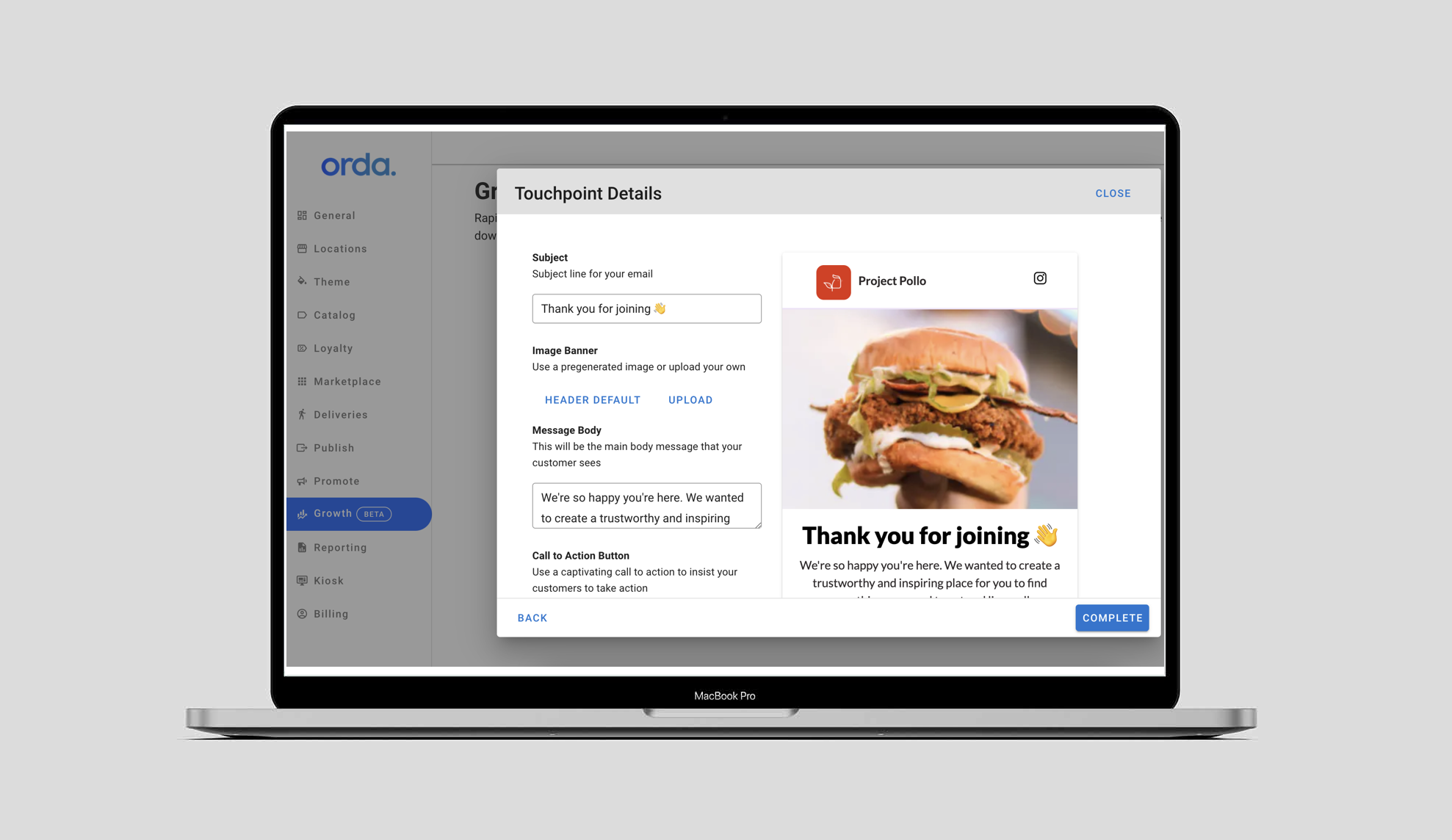 The welcome email can be a simple or as complex as you want. Either way, it's an ideal way to introduce yourself and your brand to your new customers.
Make sure you include all the necessary information about your restaurant such as: Logo, Instagram Social media link, and Contact details. You can use your Orda sellable Instagram link in bio.
Sale Event and Touchpoint
To improve the customer journey, we will focus on the customer experience with the restaurant website and mobile app. We recommend that your restaurant sends customers an email after they place their pickup or delivery order. In this email, we recommend that you include a link to a survey that asks customers to rate their experience with the restaurant. You can also ask them to rate the food, packaging and driver. We recommend using a rating scale of 1 to 5 or 1 to 10.
In addition, you can ask customers for feedback on how you can improve your services and reach out to them if additional information is needed. The goal of sending this email is to understand the customer experience so you can make improvements where necessary.
Read more about how to launch your customer journey with Orda.
Launch your customer journey with Orda.
Table Of Contents