In the culinary world, every detail counts. From the ingredients chosen to the presentation of dishes, perfection is always the goal. In the digital age, this drive for perfection should also extend to a restaurant's online presence. For restaurants, a high-performance website isn't just a good-to-have; it's essential. In an era dominated by third-party ordering platforms, standing out with an efficient and well-designed website can make all the difference. In this post we will cover how Orda WebXP improved the website of Keva Juice by 10x. But before - here's why.
1. First Impressions Matter
For many customers, a restaurant's website is the first touchpoint. It's where they'll look up menus, check opening hours, and often, place an order. A slow-loading or poorly designed website can deter potential customers, making them opt for competitors instead. Just as you wouldn't want a guest to wait too long for their order in your restaurant, you shouldn't let them wait online either.
2. Rise of Third-Party Ordering Platforms
Platforms like DoorDash, Grubhub, and Uber Eats have changed the game. With customers spoiled for choice, restaurants need to ensure their website stands out. A high-performance website can improve your restaurant's visibility on these platforms and provide a seamless ordering experience for customers.
3. Enhanced User Experience
A well-designed website isn't just about aesthetics. It's about functionality. Sites that are intuitive, easy to navigate, and quick to load enhance the user experience. This means customers can find what they're looking for faster and are more likely to complete their order.
4. Better SEO Rankings
Search engine optimization (SEO) is crucial for any business. For restaurants, appearing on the first page of search results can significantly boost visibility. A faster, high-performance website is favored by search engines, which can translate to better rankings and more organic traffic.
A Real-World Example: Keva Juice
To emphasize the importance of a fast and efficient website, let's dive into a use case that our team had the privilege of working on: Keva Juice.
Before: Keva Juice, known for its fresh-squeezed juices, had a website that was lagging behind. With a pagespeed performance score of just 11, it took a whopping 6.8 seconds for their site to load. This wait time could have easily turned away potential customers.
After: Our team took on the challenge to improve Keva Juice's website performance by 10x. The results? A staggering 93% pagespeed performance score with a load time reduced to a mere 0.6 seconds. This transformation not only provides a better user experience but also sets Keva Juice apart in the competitive juice market.
Google Page Speed Before and After
Before: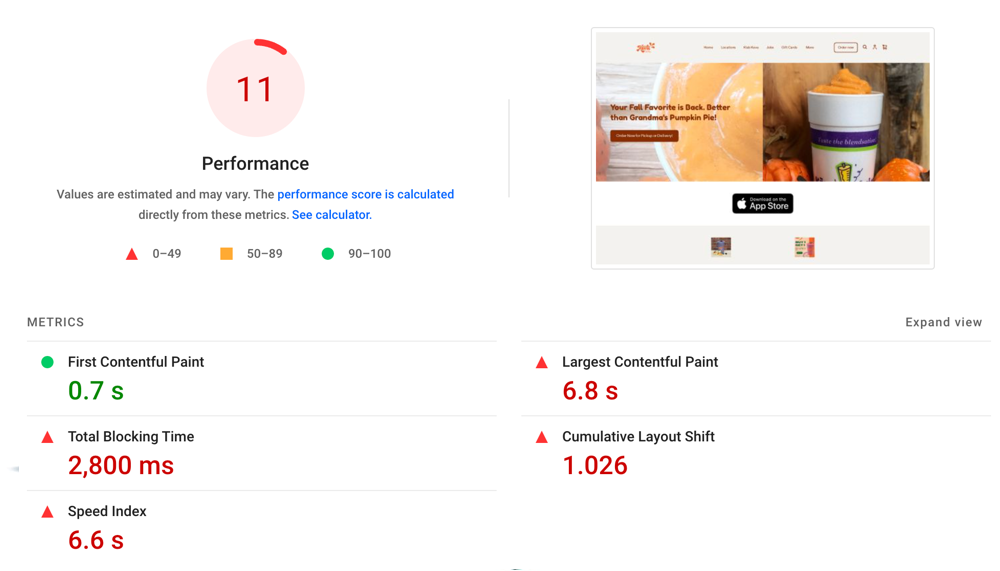 And After with a 10x boost in performance: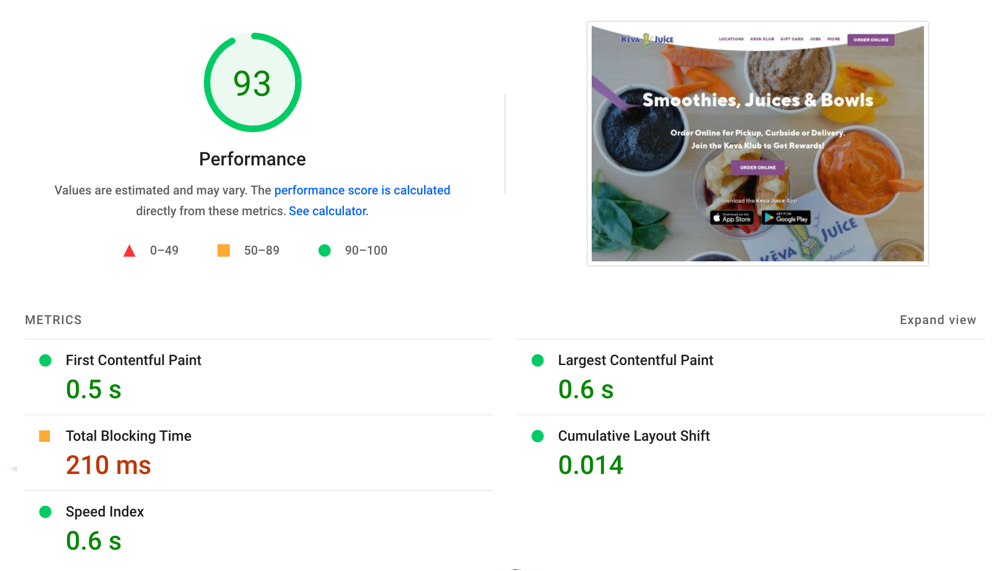 In Conclusion
In the restaurant industry, where competition is fierce, every advantage counts. A high-performance website isn't just a digital luxury; it's a necessity. As third-party ordering platforms continue to dominate, ensuring your website stands out with speed and design can be the key to capturing and retaining more customers. So, take a leaf out of Keva Juice's book, and prioritize your website's performance today.
Don't wait for another day to pass with a subpar website. Your restaurant deserves the best online presence to match the quality of your dishes. If you're inspired by the transformation of Keva Juice and want similar results for your restaurant, visit our specialized website builder for restaurants, Orda WebXP. Turn your website from a mere digital presence to a high-performance conversion machine. Get started now at Orda WebXP. Your customers—and your revenue—will thank you!
Table Of Contents