Orda changes the self-ordering kiosk design industry in a similar way to how Wix changed the web design industry.
Orda Express is a disruptive service bringing a whole new definition to how branded self-ordering kiosks will be designed and produced in the future for restaurants, coffee shops and retail businesses.
With a few clicks of a button, users can design and print stunning self-ordering kiosks that are fully up and running in a matter of days rather than weeks or months. This allows for the new generation of entrepreneurs to achieve business models that have not been doable before. The Orda Marketplace allows businesses to fully customize their unique ordering experience with cutting edge features and integrations.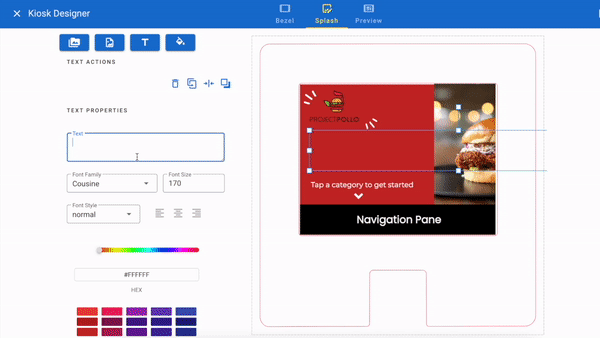 The Need for Branded Self Ordering Kiosks
Restaurants and other food and beverages businesses have always searched for ways to improve order taking with modern software systems. The latest times are pushing this industry to innovate around web ordering and mobile apps but this leaves 80% of their traffic not automated. In the last few years, innovative players like McDonalds, Starbucks and Taco-Bell created self-ordering kiosks to overcome this gap. With a budget of hundreds of millions of dollars to develop their own branded kiosks, these companies could grow like no other copmany in their space. The ability to give a full digital ordering options for consumers becomes an advantage that small and medium businesses are now seeking to fill in.
Self-Ordering Kiosks the easy way...
The process of building your own branded self ordering kiosks used to be tedious and long. Contacting multiple vendors for architecture, design, hardware, software and integrations was dreadful. With the help of the Orda easy interface this process is shortened to a matter of minutes.
The Orda Express process includes building your full solution kiosk hardware and software with these easy steps:
Design Your Hardware - With Orda designer you can choose between wall mount, counter top or stand-alone kiosks and design the bezel with the easy to use designer. You can add text, QR code, images, background color and any element to make the kiosk bezels unique for your store. It will be printed on your kiosk with a technique that is unique to make the colors the same when printed.
Design Your Software - The way your customers interact with your ordering platform is important and with the new drag and drop tools you can actually design the interaction. You can choose from existing templates or start a new blank canvas to design your welcome screen and interactions.
Get Your Parts Shipped to your Store - Once you sign off on the design as presented in the preview tools, you can place the order and get your kiosk bezels shipped to you. You still need to purchase the New iPad (10.2') and a Square Card reader to plug to your kiosks.
In about 7-14 days your kiosk is ready to be launched!
Stunning Templates as a Starting Point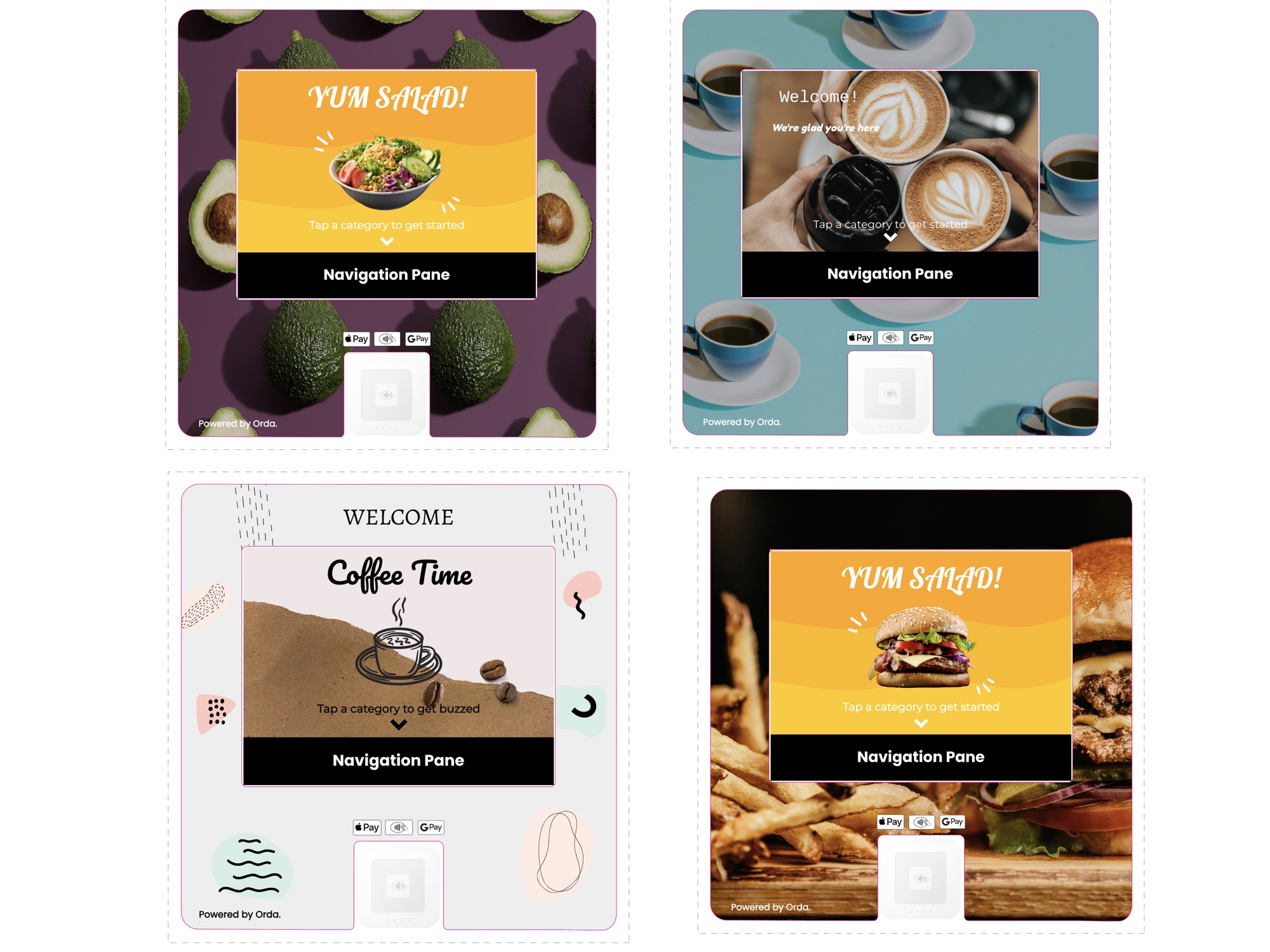 To equip users with already made templates, and to ease the creation of your own stunning self ordering kiosk, the Orda Express team created dozens of templates that will be easily used as inspiration or starting point for your own design. We developed templates for these industries:
Quick serve restaurants - Burgers, Taco, etc.
Coffee Shops
Pizza Shops
Juicery shops
Success Story - Buddy Valastro "Cake Boss"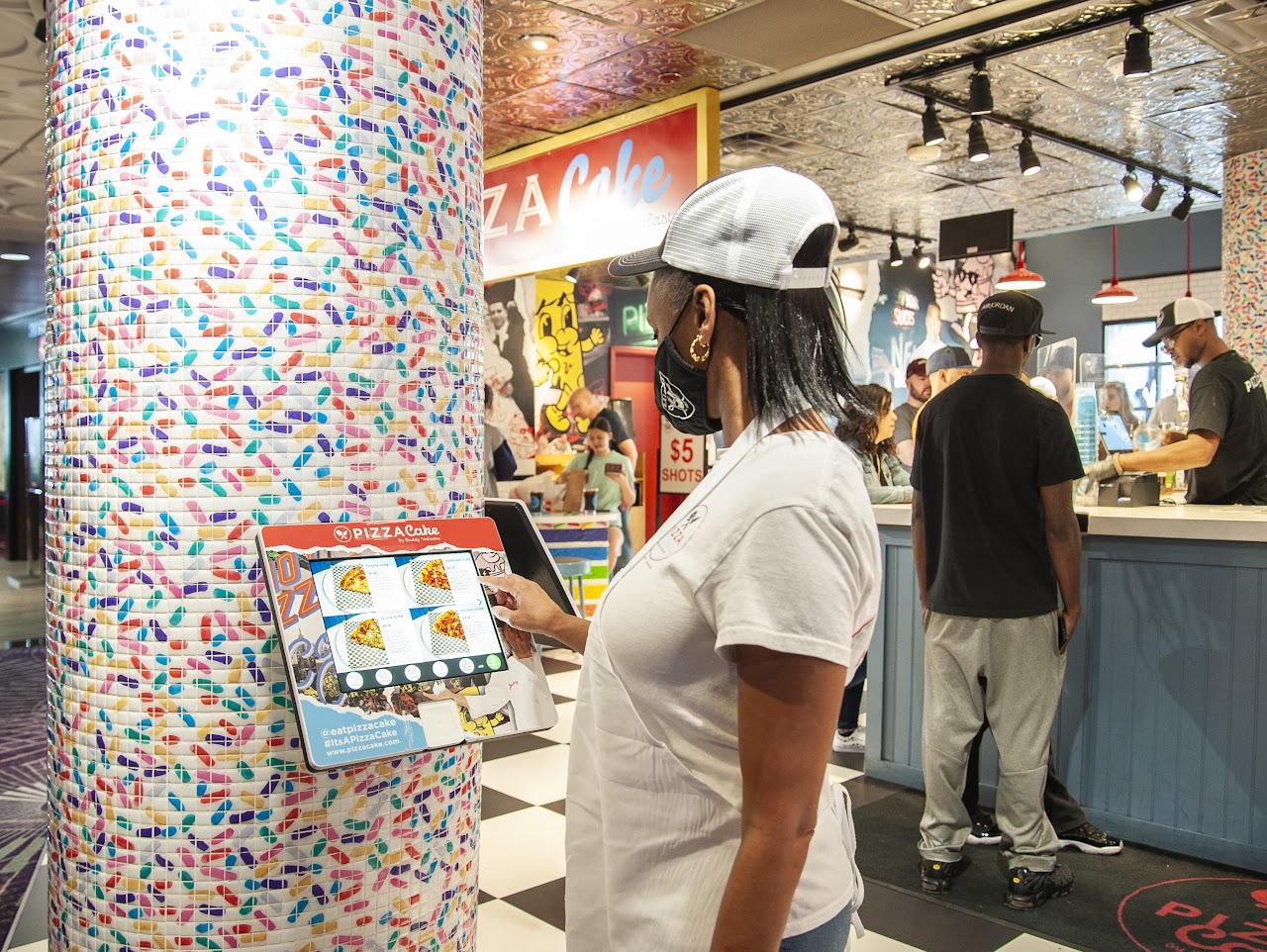 Since Buddy Valastro "Cake Boss" is a popular celebrity, he wanted each customer that visited his stores to feel like he is part of the visit. Buddy partnered with Orda to create stunning kiosks with his personality captured in the hardware and software.
Every detail in the kiosks feels like Buddy is there. The express ordering kiosks are presented right after entering Pizzacake at Caesar's Entertainment Harrah's Resort so customers are served fast. Buddy's icon is presented in the self-ordering kiosk with quotes and food recommendations that make you feel like Buddy is there with you.
Consumers have reacted to Buddy's Orda Express kiosks with great excitement. Here are some Yelp posts from his customers which shows that consumers love the technology:
"The pizza & service here were both outstanding! There are also self serving kiosks were you can place your own orders."
"It's always a little hectic as it's a small counter right off the casino floor but the kiosks make ordering easy and I've never had to wait too long considering the length of the line."
"Pro tip: The express kiosk is available and it works great. Instead of avoiding the really long lines! Use the express kiosk :)"
"It gets super busy even at 3am (they're open until 4am on weekends), but hot tip! Use the kiosk where people wait for their orders for quicker service."
Success Story - Blended Juice and Coffee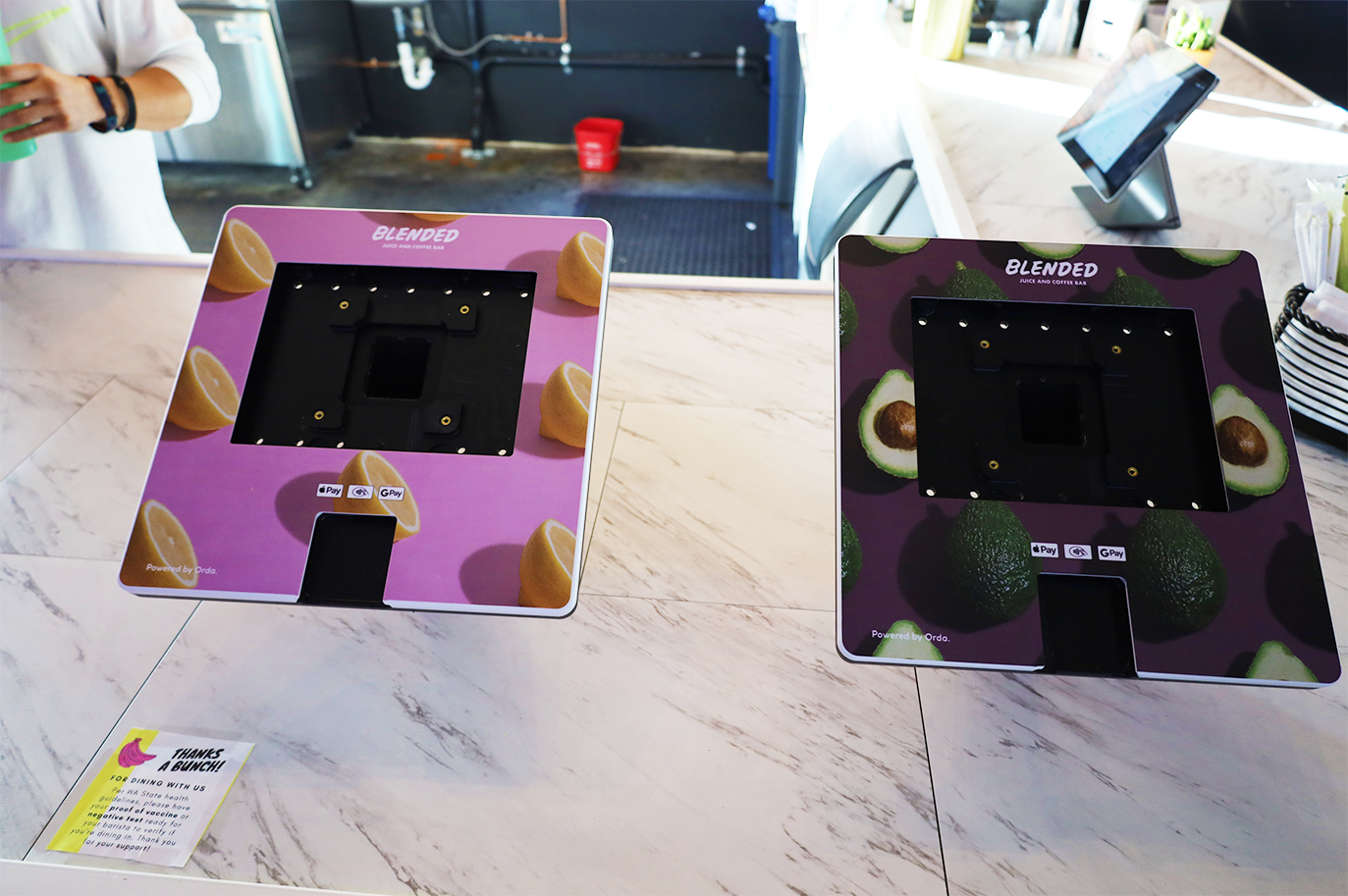 Blended Juice and Coffee in Seattle, Washington partered with Orda to create a beautiful branded experience for their customers. They have been using Orda as a full solution with mobile app, web, self-ordering kiosks, kitchen display system, and marketing automations for the past year.
Since launching his Orda Express, Blended was able to move employees from unnecesary tasks like taking orders to concierge roles. This resulted in better customer experience and higher sales. Since customers took control over their orders, this eliminated mistakes that occurred daily before going fully digital.
Owner Frankie Rodriguez shared, "Orda Express let us create a unified branded experience for every customer who walks in our doors. We see our kiosks first and foremost as a marketing solution because it allows us to collect customer data that is plugged into Orda's automated marketing. This results in customers downloading our Blended mobile app to their phones so we have a direct marketing channel that drives more repeat orders."
Success Story - Silverstein Properties Foodhalls
Silverstein Properties, owner of properties like World Trade Center, partnered with Orda Express to create an exceptional customer experience in their foodhalls and corporate dining spaces.
Nick Bauer from their hospitality group provider shared, "Custom branded kiosks on each floor of our properties are very important because it lets us connect customers to our amenities and build genuine community. Our self-ordering menu is basically the literature we have for the food amenities in order to generate personal connections and interactions. This community building was only possible since we were able to reallocate cashiers to concierge roles."
Get Your Orda Express
You can create your stunning self-ordering kiosks with Orda Express.
Table Of Contents