For many food and beverage businesses like restaurants, coffee shops and juice bars, customer demand for delivery is at an all-time high. For many businesses this is the only way to grow their revenue in an efficient and scalable way. Though paying a 30% commission to 3rd party delivery services can result in a big drop in revenue. Orda is on a mission to democratize online and mobile app ordering, so this partnership is super natural.
Orda and Doordash partnered together to enable delivery for your business in a branded mobile app. With one click of a button you create a seamless service to deliver your items to your customers with a flat-fee cost. This is all possible thanks to the DoorDash Drive integration that Orda leverages as part of their marketplace to their members.
Businesses that use the Orda and Doordash delivery reported a 177% increase in native delivery sales and 182% increase in native delivery orders. This is amazing news for businesses that already have a strong client base.
If you offer online ordering, Orda and DoorDash Drive enables you to offer delivery without having to worry about logistics like scheduling drivers or paying for transportation costs.
What to expect with Orda + DoorDash?
Capture additional customer demand - Make delivery accessible across all of your channels
High quality, few worries - Leverage our logistical and operational capabilities for a quality delivery experience
Greater control of your brand - Control your ordering interface and promotion tactics
Reduced costs - Eliminate in-house delivery costs such as insurance, vehicle purchases, and gas Improved operations
Seamless integration with your ordering system for faster deliveries
Flat fee model - Pay a flat fee per delivery with no sign-up fees, subscription fees, or other hidden costs
Set up Doordash in less than a minute?
After you sign up with Orda through https://www.getorda.com , go to the Deliveries section and click the "Connect with Doordash" button
Set your delivery preferences:

Service fee - charge your customers a service fee. On delivery orders this fee is added to the total amount of the customer's order.
Minimum Order - this is to require a minimum amount for orders to be eligible to be delivered
Maximum Delivery Radius - set your delivery radius up to 5 miles. If you need wider you can increase your radius for an additional fee.

The Order Simulator will allow you to see how it works for orders in real life so you can experiment before launchinb.
Enable your delivery for the location through the Locations tab.
For more information go to the university page here - https://university.getorda.com/marketplace/doordash-delivery That's it, your app is ready for delivery!
Tracking Your Deliveries
When your customers place an order with your mobile app, it will go directly to your POS and create a delivery through Doordash so you don't need to handle the operation side of the delivery. You can track the deliveries through the Deliveries tab and even call the Doordash support if required.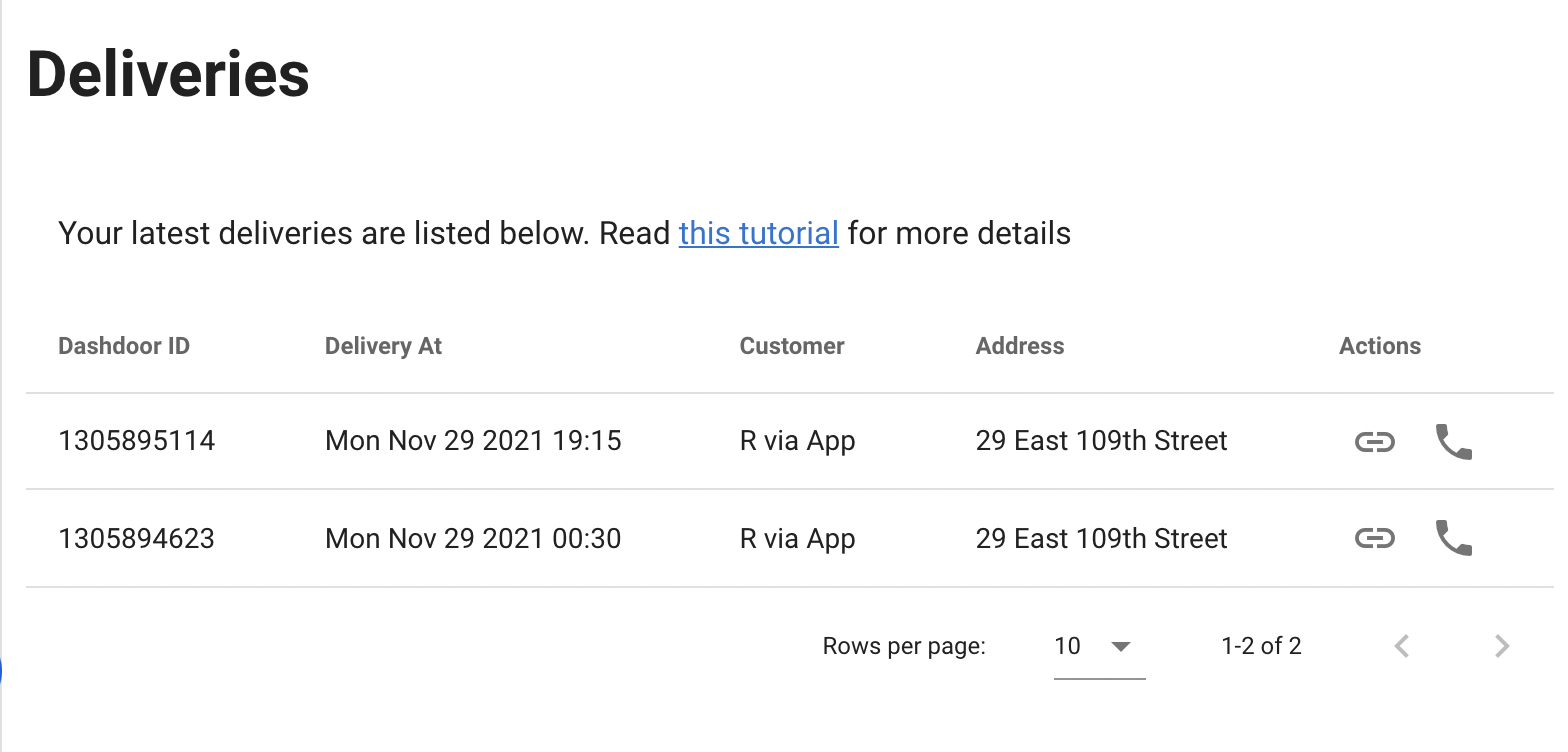 When you click the phone support icon, you will be directed to the instructions page: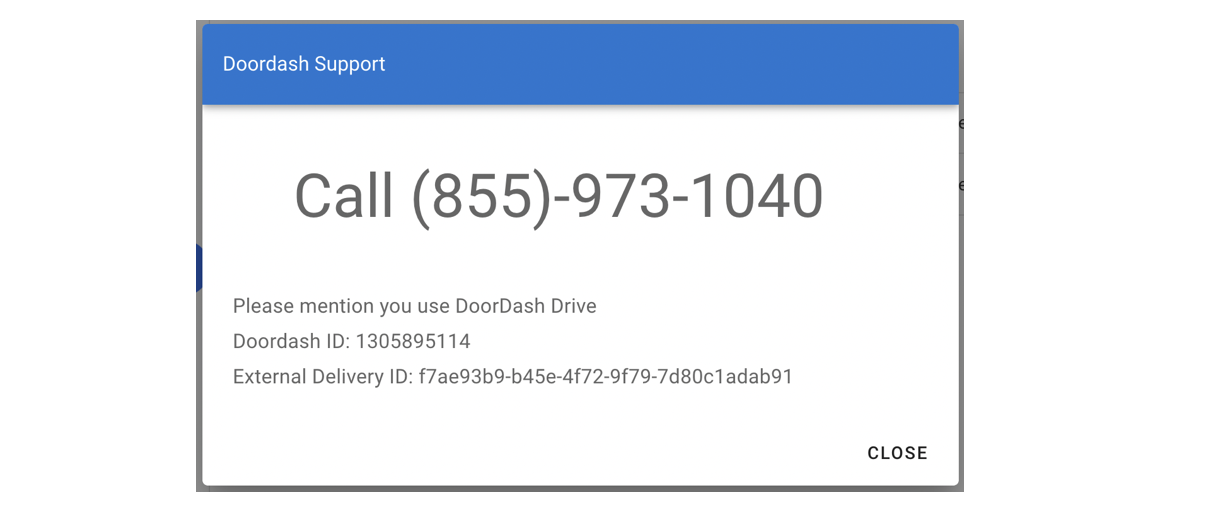 When you click the the link icon, you will be directed to doordash tracking page: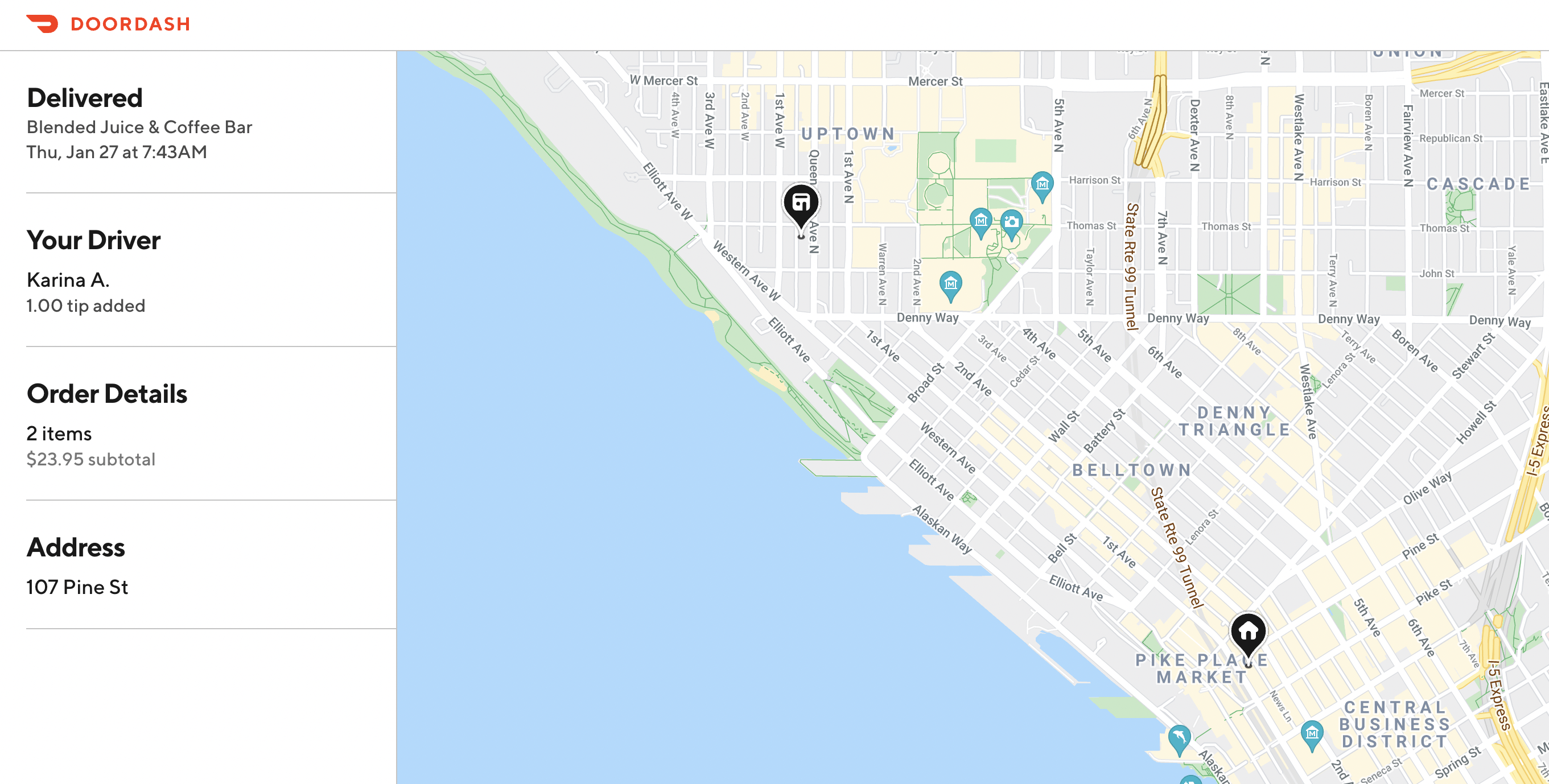 A Step-by-step Guide For Delivery
The order flow as described by Doordash is below, Delivery fulfillment is enabled through the DoorDash Drive API: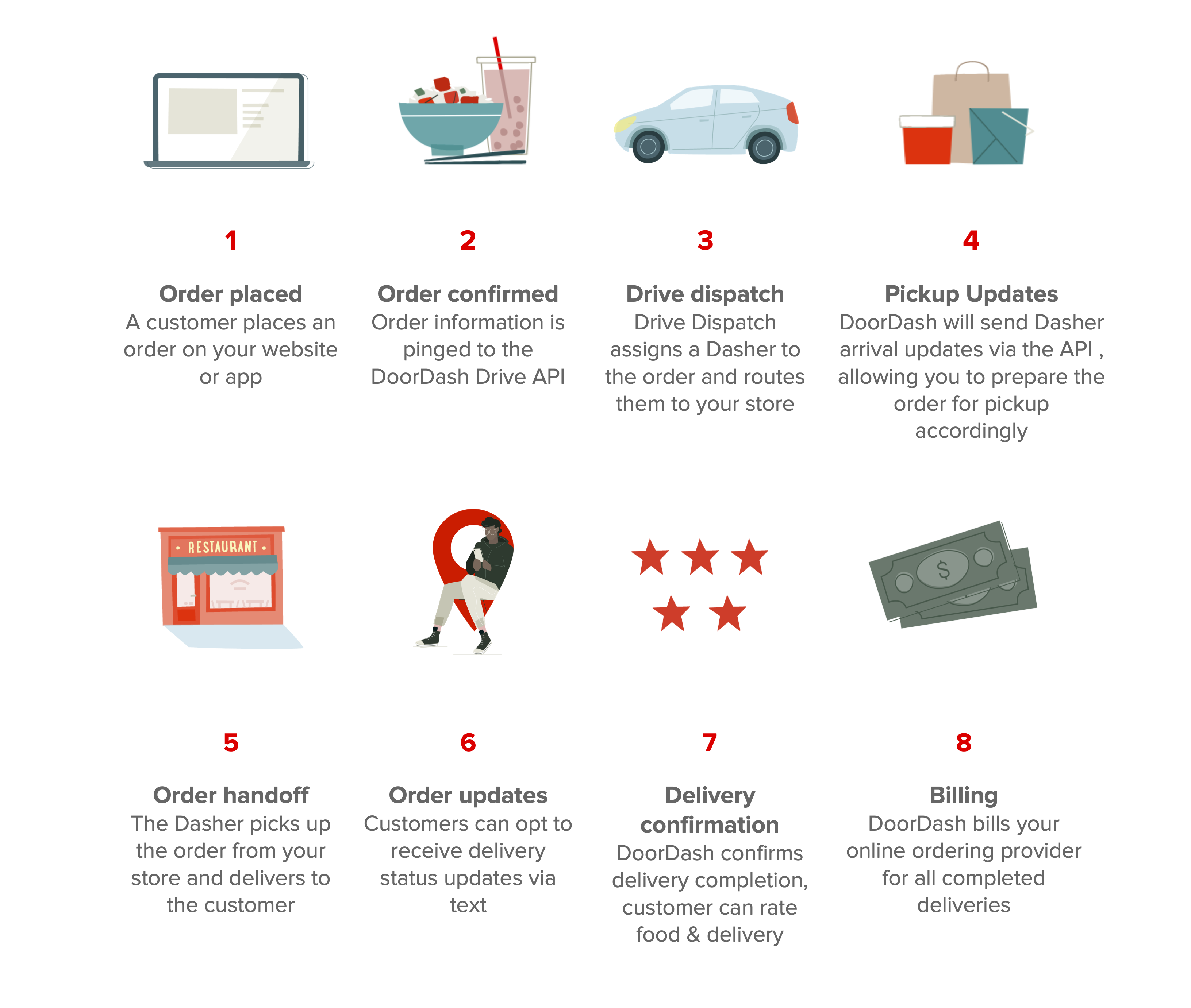 How to Promote Your Delivery Service
In order to create awareness/education for delivery we recommend 1x post a week about delivery from you. For example, Facebook profiles default to the "Send Message" action button. This can be updated to "Start Order" instead to drive order volume. In Instagram, Add Order Now button to your App download page. If linking to Link Tree - add a direct link to the app.

Frequently Asked Questions
How long does it take to be approved for the Doordash plan? Zero time, it's immediate. Once you set up your account and we publish your app to the App Store and Google Play it's ready to be used by your marketing team to promote your app.

How much money does the service cost? You pay a $8 flat fee for under 5 miles per delivery with no sign-up fees, additional subscription fees, or other hidden costs. You can choose to pass on as much of the fee to customers as you'd like.

Can I do the deliveries in-house? Yes, you can set up in-house deliveries if you want so your team will deliver it. Read this article

How is my team notified about deliveries? Your team will get a notification to their Square POS or Bump KDS (https://join.bumpkds.com)

How can I track my deliveries? Your team will be able to track the deliveries through the Orda dashboard (https://dashboard.getorda.com)

Can I call Doordash for support? 855 9731040 is the support number. You can see the delivery identifier number through the Orda dashboard.

How can I Promote my delivery service? To maximize the potential of your delivery, you can leverage the Promote tools that are available as part of Orda through the dashboard.
Table Of Contents