Upselling and cross-selling techniques are great methods to improve customer satisfaction alongside business revenue.
While business owners want to grow with upsell and cross-sell techniques, they usually fail to execute. This is a common question that we hear from business owners:
Are there any benefits to upsell to customers? I read a while back about upselling techniques and how to get customers to spend more. It was interesting but do we benefit at all from doing it?
More than this when we interview actual workers, we see that they don't want to be part of a big upsell or cross-sell technique. Especially because Gen Zers "are three times more likely to describe themselves as introverts than extroverts".
I'm rather shy and feel very awkward upselling. I get the feeling that I'm pressuring a person to buy more.
Why Manual Upsell and Cross-sell Fail?
While Startbucks and Dunkin' have very successful upsell and cross-sell techniques, most businesses fail longterm to execute their plans. Here are some of the reasons this happens:
Building the right upsell technique requires tons of time and data. This usually involves a customer success manager to analyze the ingredients of each item and map the items in groups so it will be easy for them to connect to each other. Also, going over historic data is required to define which item "works" best with each other. For most businesses it doesn't make any sense to hire someone dedicated to increase the sales without a proven technique already built.
Training employees - if you already have a plan in your mind and you want to roll out a playbook with your employees, you will find it very hard to deploy it with your workers. This is mainly because different techniques require specific mental behaviors that your employees mostly don't have.
While thorough training is super important for your roll out, it is hard to maintain and execute the playbook for the longterm. We find most businesses have different playbooks or aren't maintaining the technique in a specific source where the employees can get updated.
Your catalog changes periodically? This means that the upsell and cross-sell playbooks need to be updated according to your item changes. This is an extra effort that is required periodically.
To upsell and cross-sell effectively, your staff need to be clued in on each sales technique. If your untrained staff attempt to upsell and cross-sell to your existing customers, they may do so carelessly, resulting in disgruntled and alienated customers. This negative experience may be enough to push them away from your business to a competitor.
Why Automatic Upsell and Cross-sell Wins?
Automatic upsell and cross-sell is driven by business intelligence techniques that are retrieved from artifical intelligence algorithms. Analyzed by these algorithms, your catalog is attached to a map of categories and items linked to each other. So for example, when customers buy a burger without a drink, the algorithm will find the best offer according to the history of your store sales.
The upsell is trained in the backend and updated periodically according to the history of your sales and new items that are added to your catalog. The algorithm scans all of your sales in real-time and finds best matches for all items. It also changes periodically so you don't need to manually update it when new items are added or removed.
Your app, online ordering, and self-ordering kiosks are gently suggesting the new products after the cart is accepted and leaves it to the customer to discover other items in your catalog.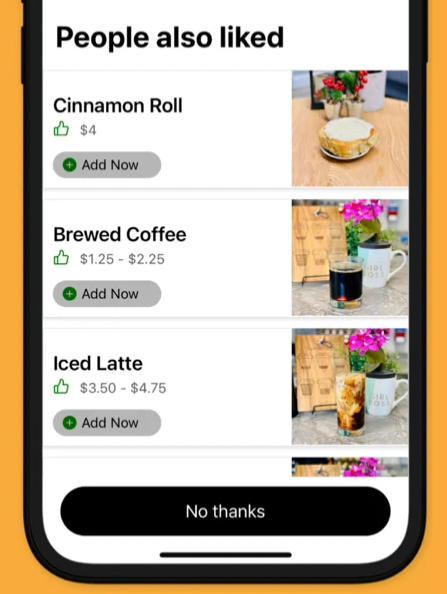 Orda Democratizes Personalization
Orda is a proven online and mobile app ordering platform that allows you to set up and roll out your upsell strategy in a matter of days rather than weeks or months. The decision logic is created in the backend for each merchant separately and according to past sales. This brings the power of McDonald's to every brand.
The Team Behind the Orda Smart Upsell Engine
Orda (Linkedin) is a technology company that has a mission to give the power of personalized online ordering and mobile apps to every brand. The founder of Orda, Roy Ganor was VP R&D of company acquired by Wix and has patents for machine learning algorithms to treat sleep apnea. Another founder is a veteran of the Yale Social Robotics Laborartory and utilizes her automation background to help local brands grow. The founders are applying these backgrounds to helping local businesses thrive with sophisticated artificial intelligence and machine learning that gives businesses a competitive advantage.
How to Get Started?
Orda is the leader in personalization and decision logic technology. Orda announced it will utilize its decision technology to provide an even more personalized customer experience in its digital ordering platform at every customer touchpoint: web, mobile, self-ordering kiosk, SMS, email. Orda will make smart upsell recommendations based on consumers' purchase history, time of day, current restaurant traffic, and trending menu items. The decision technology can also instantly suggest and display additional items to a customer's order based on their current selections.
Table Of Contents